---
Install Anwhere Monitor Agent program onto the computer that you want to monitor. Install Anywhere Monitor console program onto your computer, and you can login to start monitoring remote computer.
pcTattletale Live Realtime Spying for Android
Theft Track employees' work time and analyse how much time they spent on each application. Block unuseful applications and websites to keep employees from playing games,online shoppings and so on in work time. Monitor all employees' pc and internet usage, such as chat, email, ftp, website and so on. Block website.
Demo Download allows you to monitor the test computer. Download Demo user ID: demo Demo user password: Lifetime free version upgrades and support. File Activities Delete, open, copy, move, create etc.
Get file from remote computer. Top 20 Visited Website by time. Record keystrokes to see anything typed Track visited websites even in private mode Track USB activity and user logins Supports Microsoft Outlook Webmail Fully tamper proof using invisible mode option Easy to install, step by step guide with screenshots Free updates and device changes during the subscription. A unique undetectable monitoring software and keylogger for Windows PC.
Remote Update Update Remotely Update to the latest version faster and easier than ever.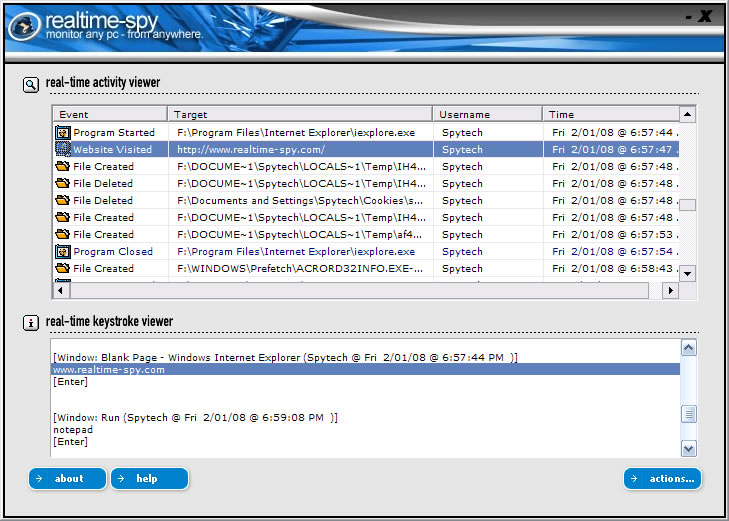 Track User Logins Monitor PC Users Keep track of all computer network connections including bandwidth usage, user log-ins and even print jobs. Are you ready to face the truth? Available for immediate download. Silent Sync Feature. Change Application Settings Remotely. USD Buy Now. Show Features.
How to Spy on Computer with Keylogger Spy Software
Money Back Guarantee If for any reason you are unhappy with our product within 10 days of purchase, we will refund your money in full. Is this a single payment? How can I see prices in my currency? Click the subscription length you wish to buy. On the next page, you will see all currencies. What happen when it expire?
The Best Employee Monitoring Software for | viwanggast.tk
We delete the expired account after 7 days. Do you have a money back guarantee? What Is Windows Spy Software?
spyware app for iphone.
a real spy for cell phone.
FlexiSPY™ Invisible PC & Mac Computer Monitoring Software;
spy net app download.
How to Install Windows Spy Software? Installation is easy and takes only a few minutes. Remote installation is not possible! The user manual is step by step and each step has the screenshot. Our Windows spy software has over features , which is more than any competing product.
Computer Monitoring Software for Windows 10;
spyware untuk android.
Who's Spying on Your Computer? — Technology Safety.
Free Remote Desktop Software!
Many of these features are unique and cannot be found with any other Windows spy software. We gives you information, insights and clues that no one else can. We are the only PC monitoring software with real-time screen watch. We have a no quibble refund policy. Read More. My Grandpa has difficulties to find the home.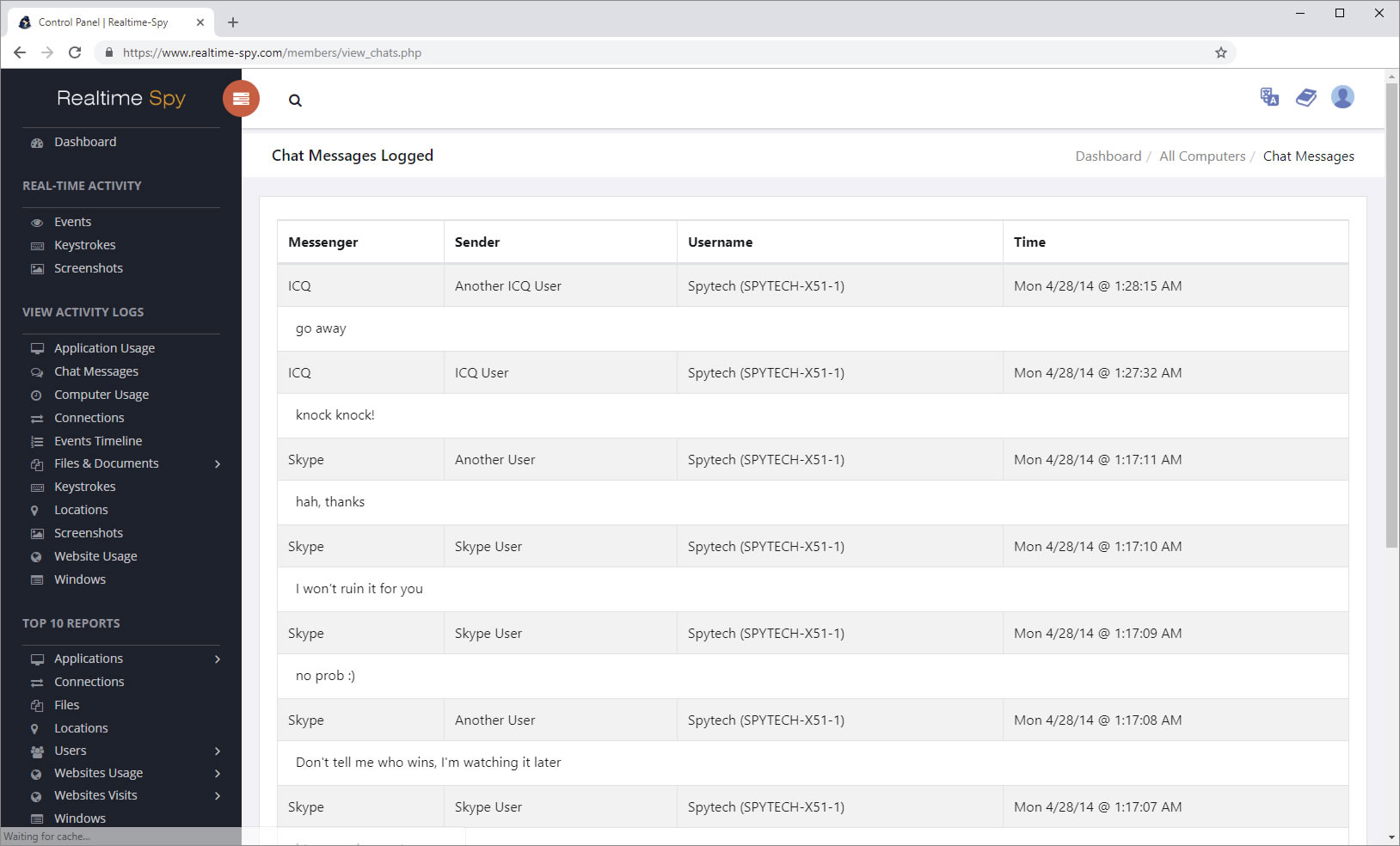 He gets lost frequently and all family members worried about this. We decided to purchase the cheapest Android phone.
Thanks a lot. My son has a classmate has been talking about cutting themselves and sending pictures of their scarred wrists back and forth to each other… all of this just less than two weeks after another Spencerport, NY student committed suicide. I started to use Spyera to keep an eye on both of them and possibly avert another senseless and premature death. Everything works as expected.
Big thanks to Spyera. It worked for me.
HomeGuard (64-bit)
I discovered everything I need within a month. I got all recorded phone calls without rooting the target device. I also purchased the computer monitoring version because I did not want to miss anything. Some might send spyware to you as an attached file that automatically installs itself when you open the email. Others may email or instant message a greeting card, computer game, or other ploy to entice you or your children to open an attachment or click on a link.
5 best software to keep track of PC use [ List].
How to spy on a PC remotely, free of charge?.
Publisher Description.
While most spyware is software based a program that can be installed on your computer , there are also some hardware-based spyware devices called keystroke loggers. These keylogging devices may appear to be a normal computer part; for example, it can be a special keyboard with keystroke logging capabilities or a small device that connects your keyboard to the computer.
Once the keylogger is plugged into your computer, it can record every key typed, capturing all passwords, personal identification numbers PIN , websites visited, and any emails sent. Even if a computer is being monitored by spyware, there may not be noticeable changes in the way your computer operates i. If you suspect that someone has installed spyware to monitor your activities, talk to a victim advocate before attempting to remove the spyware.
Law enforcement or a computer forensics expert may be able to assist you if you want to preserve evidence that may be needed for a criminal investigation. Unfortunately, detecting spyware on your computer may be difficult. If a hardware device has been installed, you might see an additional component between the computer and the keyboard cord, or it might be the keyboard or mouse itself. In laptops, hardware device would be installed inside the laptop, through the access panel.
Hardware spyware cannot be detected by anti-spyware software. Software spyware typically runs in stealth mode using disguised file names that look legitimate. Sometimes, running anti-spyware software may detect this type of spyware but not all of it.
View your data with any computer browser or on our unique mobile app. BlurSPY will let the parents save their children from social media dangers and monitor their internet and social media use. You will get a message they are not live and to try again:. We went back to the drawing board and are very happy to announce that we now have true live realtime spying for pcTattletale. To solve this problem, we've come up with a mobile application that allows you to access your most useful data from your smartphone.
Trust your instincts and look for patterns. Everything is being recorded. If you suspect your computer is being monitored, remember that all that you do, including research on spyware and computer monitoring, will be revealed to the abuser. Strategize around the safety concerns that may arise if the abuser thinks that you know and are attempting to remove their control. If you can, use a safer computer when you look for domestic or sexual violence resources. The spyware will actually record everything you do, including attempts to clear your browsing history.
Look for free web-based email accounts, and consider using non-identifying name and account information. Example: bluecat email. Also consider changing passwords to sensitive accounts such as online banks, social media accounts, etc. New software or hardware? Beware of gifts from the abuser to you or your children, such as new keyboards, cell phones, or games for the computer as it may contain spyware.